Charya Dances: Newar Buddhist Ritual Dances
Manjushree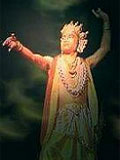 Manjushree, believed to have come from Mahachin, holds a special place in Nepalese culture as a Bodhisatwa who made Kathmandu Valley inhabitable by draining the water out of it. Long ago, the Kathmandu valley was a lake. Manjushree with his two consorts Barada and Mokshada came to Kathmandu to pay homage to Lord Swoyambhu.
Bajrayogini
Bajrayogini, the goddess of yogic practices dances joyfully in bright red color. She is the consort of Heruka and personifies the feminine energy. The temple of Goddess Bajrayogini is situated 3 miles from Kathmandu.
Pancha Buddha
The Pancha Buddha or Five Buddhas are Vairochana, Akshobhya, Ratnasambhava, Amitabha Buddhas and Amoghasiddhi. Each of these transcendental Buddhas has his particular color, posture, direction and wisdom.
Rakta Ganesh
The image of Rakta Ganesh (Red Ganesh) is generally found along with Mahakala at the entrance to monasteries in the valley as a protective deity. He is elephant headed and has three eyes.
Arya Tara
She is of green color and regarded as a consort of Amoghasiddhi. She protects the suffering beings in crossing the ocean of Samsara, of this life of suffering.